The Lidji Firm attorneys are investigating claims regarding neighborhoods, households, and individuals getting exposed to a dangerous and persistent class of chemicals called PFAS. 
PFAS is the generic name given to a category of thousands of chemical compounds which all share a common denominator: they're made of extremely strong and durable chemical bonds. If these chemicals ever leak, they tend to stick around for a very long time.
PFAS "forever chemicals" are linked to serious health conditions when absorbed by humans, whether via food and water supply or by exposure through the air and dust. These conditions include various forms of cancer, liver damage, thyroid damage, decreased fertility, high cholesterol, and many others.
The Lidji Firm is fighting to hold the industries and organizations that let leaking PFAS chemicals contaminate our neighborhoods, as well as our food and water supply, accountable. If your home or neighborhood has been exposed to PFAS, or if you or a loved one has a health condition that can be linked to PFAS, call today for your free consultation. You might be eligible for compensation. Below is a suspected contamination map.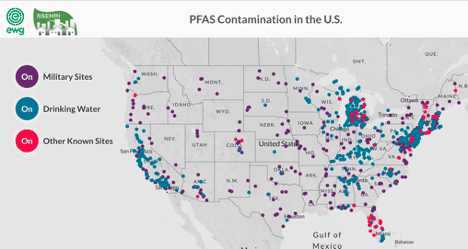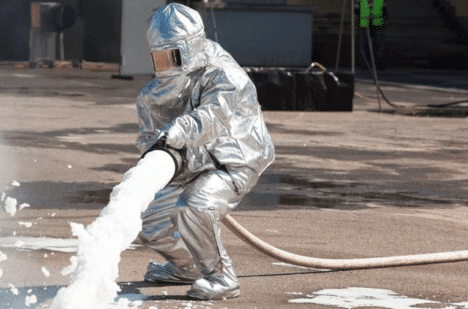 Commonly Used, Commonly Leaked
Many industries use PFAS chemicals for a wide variety of uses, including the manufacture of non-stick coatings, paint, cleaning products and firefighting foam. The widespread manufacture and use of these products creates a lot of opportunity for the chemicals to be released into the air, into the ground, and into water.
This contamination tends to happen slowly over time, but because of the uniquely durable nature of PFAS chemicals, the first rounds of leaks and contamination do not fade away. Instead, the leaks and contaminations steadily build up, posing more and more of a health threat.
Many companies who have used PFAS did not take the necessary steps to prevent leaks and contamination, and many companies are failing to take those steps to this day. Government regulators have taken steps to address this, including a planned phaseout of certain PFAS chemicals, as well as new proposed limits on other PFAS chemicals to be enforced by the EPA.
Legal Action Already In Progress
Individuals, communities, and governments across the country have been suing companies that leaked PFAS chemicals since 2010. Major lawsuits include:
The State of Minnesota sued 3M for alleged PFAS leaks in the Twin Cities area. They settled for $850 million in 2018.
Alabama water authorities sued 3M and Daikin America, Inc. and settled for $4 million.
Thousands of West Virginia residents sued DuPont and The Chemours Company over hundreds upon hundreds of serious health conditions that were linked to PFAS contamination. The suit was settled for $921 million.
New York and North Carolina state governments and authorities are currently pursuing legal action against companies that use PFAS chemicals.
We Want to Fight For You
If you, your loved ones, or your neighborhood is suffering from the effects of PFAS contamination, our team of attorneys is here for you. Give us a call right away for your 100% free and zero-obligation consultation; if we take your case, you don't pay anything unless we win for you.
The Lidji Firm has been fighting for the rights of Americans harmed by negligent corporations for decades. We're ready to fight for you too.
FAQs
How long can PFAS chemicals survive in the ground?
Between two and 10 years. This means that the chemicals have a long time to concentrate to dangerous levels and contaminate the water, air, and plant-life (including fruits and vegetables that we eat or that feed the livestock we eat) around them.
Do I need to be sick to file a claim?
No. We are pursuing a wide array of cases against PFAS contaminators, including environmental claims. So even if you or a loved one isn't suffering from a PFAS-related illness, you can still pursue a claim for environmental contamination of your neighborhood or specific property.
How do I know if my area has been contaminated?
Using your favorite web browser or search engine, search "PFAS contamination" and the name of your city. If there's any mention of PFAS contamination, give us a call so we can investigate further.
How do I know if my illness is linked to PFAS?
If you or a loved one is suffering from cancer, liver damage, thyroid damage, decreased fertility, or high cholesterol, and your area is known to be contaminated with PFAS, your illness might be linked. Give us a call at 800-223-7455 so we can help clarify further.